California Privacy Policy
Effective date: 18th October 2021
1. SCOPE
This California Privacy Policy (the "CA Policy") supplements the information contained in our rewardStyle Privacy Policy (https://company.shopltk.com/ltk-privacy-policy) and applies solely to individual residents of the State of California ("consumers" or "you").
This CA Policy describes how we collect, use, disclose, and otherwise process personal information of individual residents of the State of California, either online or offline, within the scope of the California Consumer Privacy Act of 2018 (CCPA).
Unless otherwise expressly stated, all terms in this CA Policy have the same meaning as defined in our rewardStyle Privacy Policy (https://company.shopltk.com/ltk-privacy-policy) or as otherwise defined in the CCPA.
When we use the term "personal information" in this CA Policy, we mean information that identifies, relates to, describes, is reasonably capable of being associated with, or could reasonably be linked, directly or indirectly, with a particular consumer or household. For the purposes of this CA Policy, personal information does not include information relating to our employees, contractors and other rewardStyle personnel.
2. COLLECTION AND USE OF PERSONAL INFORMATION
We collect personal information from and about consumers for a variety of purposes. To learn more about the types of personal information we collect, the sources from which we collect or receive personal information, and the purposes for which we use this information, please refer to the "Our Collection of Personal Information" and "Our Use of Personal Information" sections of our rewardStyle Privacy Policy (https://company.shopltk.com/ltk-privacy-policy).
In the last 12 months, we have collected the following categories of personal information:
Identifiers, such as your name and email address;
California Customer Records (Cal. Civ. Code § 1798.80(e)), such as your mailing address and phone number;
Protected Classification Characteristics, such as your age and gender;
Commercial Information, such as history of products purchased, obtained, or considered, or other purchasing or consuming histories or tendencies;
Internet/Network Information, such as device information, log and analytics data;
Geolocation Data, such as information about your physical location collected from geolocation features on your device, including your IP address.
Professional/Employment Information, such as your company or employer and job title;
Sensory Information, such as photos, videos, and recordings of any phone calls between you and rewardStyle;
Other Personal Information, including information you submit into the feedback form and any communications between you and rewardStyle, as well as information we receive from social networking sites and address book information; and
Inferences, such as information generated from your use of the Services reflecting predictions about your interests and preferences.
We may collect this information from the following sources: directly from you, from our business partners and affiliates, from your browser or device when you visit our Services, from Influencers or from third parties that you permit to share information with us. Please see the "Our Collection of Personal Information" section of the rewardStyle Privacy Policy (https://company.shopltk.com/ltk-privacy-policy) for more information about the sources of personal information we collect.
3. DISCLOSURE OF PERSONAL INFORMATION
As described in the "Our Disclosure of Personal Information" section of our rewardStyle Privacy Policy (https://company.shopltk.com/ltk-privacy-policy), we share personal information with third parties for business purposes or we may "sell" (as that term is defined under the CCPA) your personal information to third parties, subject to your right to opt out of those sales.
The categories of third parties to whom we sell or disclose your personal information for a business purpose may include: (i) other brands and affiliates in our family of companies; (ii) our service providers and advisors; (iii) marketing and strategic partners; (iv) ad networks and advertising partners; (v) analytics providers; (vi) Influencers; and (vii) social networks.
In the previous 12 months, we have disclosed all of the categories of personal information we collect, explained in the "Collection and Use of Personal Information" section of this CA Policy, to third parties for a business purpose.
Unless you have exercised your Right to Opt Out of personal information sales, we may sell personal information to third parties for monetary or other valuable consideration. The third parties to whom we sell personal information may use such information for their own purposes in accordance with their own privacy statements, which may include reselling this information to additional third parties.
4. YOUR CALIFORNIA PRIVACY RIGHTS
As a California resident, you may be able to exercise the following rights in relation to the personal information that we have collected about you (subject to certain limitations at law):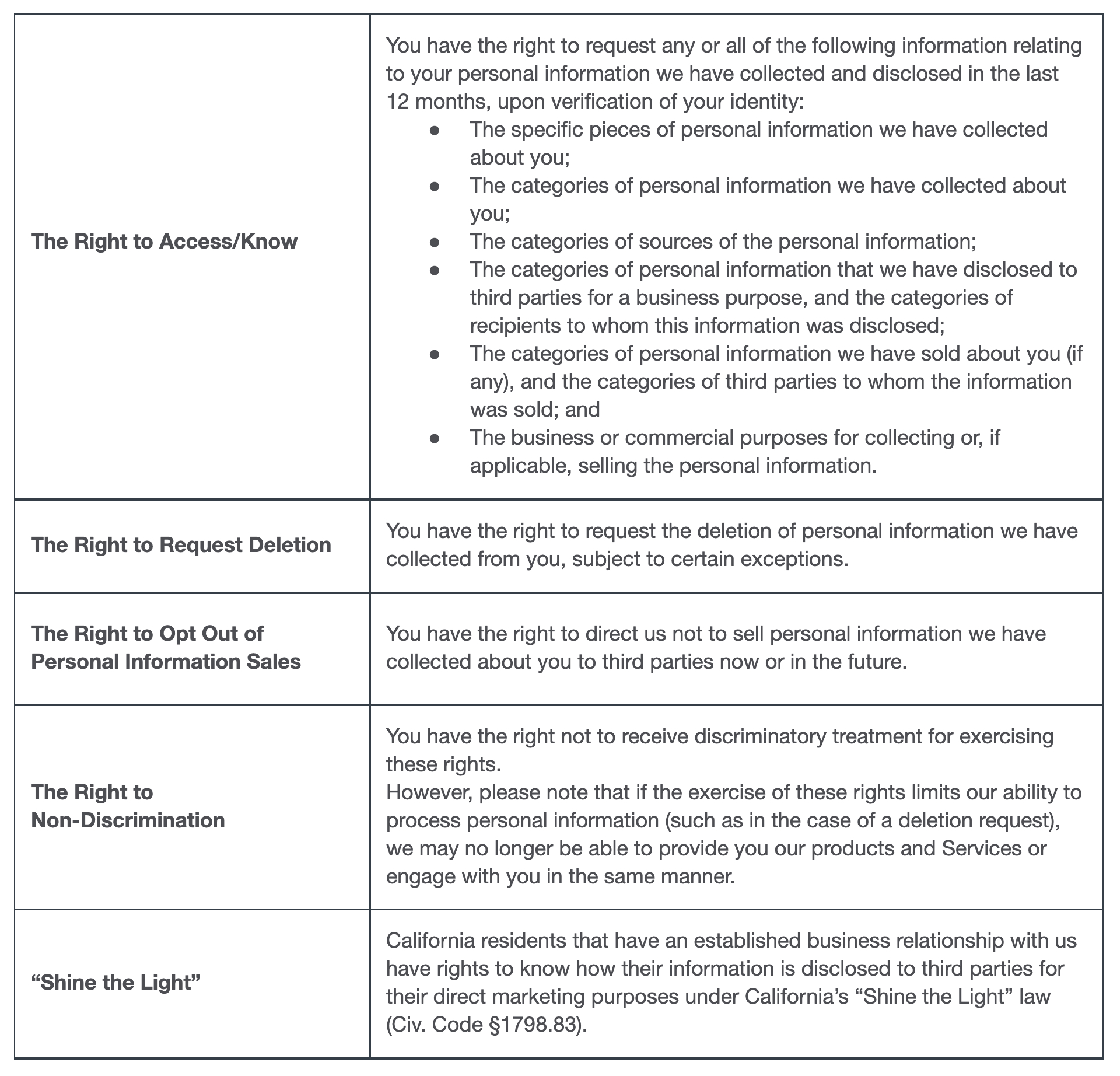 5. HOW TO EXERCISE YOUR CALIFORNIA CONSUMER RIGHTS
To Exercise Your Right to Access, Right to Know or Right to Deletion
To exercise your Right to Access, Right to Know or your Right to Deletion, please submit a request by using the email address in the "Contact Us" section below with the subject line, "California Rights Request".
Before processing your request, we will need to verify your identity and confirm you are a resident of the State of California. In order to verify your identity, we will generally either require the successful authentication of your account, or the matching of sufficient information you provide us to the information we maintain about you in our systems. This process may require us to request additional personal information from you, including, but not limited to, your email address, phone number, and/or date of last transaction on our Services.
In certain circumstances, we may decline a request to exercise the rights described above, particularly where we are unable to verify your identity or locate your information in our systems. If we are unable to comply with all or a portion of your request, we will explain the reasons for declining to comply with the request.
To Exercise Your Right to Opt Out of Personal Information Sales
As is common practice among companies that operate online, we allow certain third-party partners and providers to collect information about consumers directly through our Services, from your browser or device through cookies or similar tracking technology when you visit or interact with our Site, use our Apps or otherwise engage with us online. For example, they may collect Internet/Network information, such as a cookie or device ID, browsing history and website usage, geolocation data, and inferences generated from your browsing history and interactions with our Service as well as other sites and services. These third parties use your personal information for purposes of analyzing and optimizing our Services and ads on our Site, on other websites or mobile apps, or on other devices you may use, or to personalize content and perform other advertising-related services such as reporting, attribution, analytics and market research. These third-party businesses may use such information for their own purposes in accordance with their own privacy statements, and may sell the information to third parties, including other advertising networks, for advertising and other purposes.
For more information on opting out of "sales", please visit https://company.shopltk.com/ltk-do-not-sell . By visiting www.privacyrights.info or www.optout.privacyrights.info, you can also opt out from "sales" of this type of personal information by businesses that participate in the DAA's CCPA Opt-Out Tool. To make opt-out requests related to mobile apps on your device for businesses participating in the DAA's CCPA App-based Opt-Out Tool, you can download the appropriate app at www.youradchoices.com/appchoices.
Please refer to the "Your Choices About Online Ads" section of the Cookie Policy (https://company.shopltk.com/ltk-cookie-policy) for more information about the choices and opt-out options you may have in relation to those practices.
Authorized Agents
In certain circumstances, you are permitted to use an authorized agent (as that term is defined by the CCPA) to submit requests on your behalf through the designated methods set forth in this CA Policy where we can verify the authorized agent's authority to act on your behalf.
For requests to know or delete personal information, we require the following for verification purposes:
a power of attorney valid under the laws of California from you or your authorized agent; or
sufficient evidence to show that you have:

provided the authorized agent signed permission to act on your behalf; and
verified your own identity directly with us pursuant to the instructions set forth in this CA Policy; or directly confirmed with us that you provided the authorized agent permission to submit the request on your behalf.
For requests to opt-out of personal information "sales", we require a signed permission demonstrating your authorized agent has been authorized by you to act on your behalf.
Minors Under 16
We do not sell the personal information of consumers we know to be less than 16 years of age. Please contact us using the email address in the "Contact Us" section below to inform us if you, or your minor child, are under the age of 16.
California's "Shine the Light" Law
California's "Shine the Light" law (Civil Code Section §1798.83) provides certain rights to California residents that have an established business relationship with us with regard to the disclosure of certain types of personal information to third parties for their direct marketing purposes. To opt-out of having your personal information disclosed to third parties for their direct marketing purposes, please contact us using the email address in the "Contact Us" section below and provide your contact information to be added to our suppression list.
6. UPDATES TO THIS CA POLICY
We will update this CA Policy from time to time. When we make changes to this CA Policy, we will change the date at the beginning of this CA Policy. If we make material changes to this CA Policy, we may notify individuals by email to their registered email address, by prominent posting on our Services, or through other appropriate communication channels as may be required by law. All changes shall be effective from the date of publication unless otherwise provided.
7. CONTACT US
If you have any questions or requests in connection with this CA Policy or other privacy-related matters, please send an email to datarequests@rewardstyle.com .